Fart Tart Freddy: Bullying Stinks

We are not alone... On planet Uranus, far far away lives a special civilization called the Fartin Martians. And this true story is about one very special Fartin Martian named Fart Tart Freddy. Too bad he doesn't realize how special he really is...

Fart Tart Freddy has never felt good enough to try out for the Fart Fighter spaceball team. He has never met a magical fart fairy. He has never battled a evil alien Butthead named Lord Thunder Butt who rules with a iron fart. Freddy is only used to being bullied at fart fighter academy by Mean Methane Mike. "Butt" thats all about to change when someone or something starts mysteriously stealing the city of Flatulantis' pet poo-dles. It's up to Freddy to go on a smell-raising adventure to a secret island called Mount Poot-a-Lanka where magical and strange creatures live. He and his buddy Bubble Butt Brandon come face to fanny with the evil Lord Thunder Butt. With smarts, a big heart, and maybe something magical and tart, can the two get to the "bottom" of things or get blown away...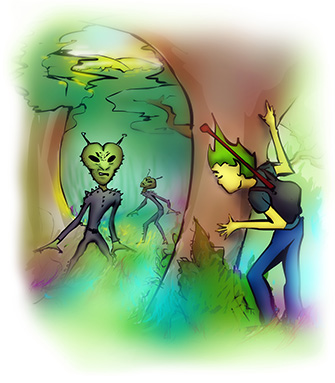 A smell-raising adventure of never giving up, despite all odds and odors...

Fart Tart Freddy: Bullying Stinks is a new children's book about a young Fartin' Martian named Fart Tart Freddy. Readers will be introduced to Freddy, a self conscious eleven-year-old boy from the city of Flatulantis who loves spaceball more than anything. He loves it so much because it's the only thing that keeps his mind off being bullied everyday by Mean Methane Mike at Fart Fighter Elementary.

When Mike's bullying crosses the line at school one day, it lights a fire in Freddy's huge heart, turning his life upside down. Freddy is forced to face many challenges, even coming face-to-fanny the menacing Lord Thunder Butt, a bully ten times worse than Mean Methane Mike. Through these challenges, Freddy learns that the people bullying him have no control over his heart anymore and the only thing that matters is that he believes in himself.



From The Author

I wrote this book using humor and a lot of play on words to engage even the most reluctant reader. If there was anything I would like for the young readers to get out of my book, it would be that it doesn't matter if you're short, overweight, skinny, or even a weak self-conscious Fartin' Martian. All that matters is that you believe in yourself . And if anyone bullies you, puts you down, or gives up on you, use it as motivation to succeed!!! If I listened to the people that put me down and said I couldn't finish my dumb book, I wouldn't have the opportunity to be sharing it with you. Every time I wanted to give up, I heard a voice saying "you're never going to finish your dumb book" and it motivated me to keep writing and writing until I finished my book. I want all children to know they can accomplish anything that their hearts truly desire! I know for a fact, because I used to be that weak self-conscious Fartin Martian.
Parents, don't let the word "fart" scare you from buying this book … it will encourage and inspire your little person to overcome the challenges that many kids face.